Advanced PDF Encryption Remover 1.7
Download FREE trial version Buy Now - $14.99 USD








Advanced PDF Encryption Remover automates the task of removing encryption, various security permissions and passwords from PDF documents. Valid PDF owner (permissions) password is required in order to remove these protections from input PDF files. The application automatically imports all secure PDF documents from a specific directory and all of its subdirectories. Alternatively, users can manually import PDF documents that need to be decrypted. For each imported input PDF document the application creates a decrypted copy of the original PDF file. Advanced PDF Encryption Remover provides users with an interface to select output PDF version and supply PDF owner (permissions) password. In addition to this, the application automatically persists most recently used input and output directory paths and allows users to sort input PDF files by path, size and creation date. View user guide (PDF).
Download sample PDF file with owner (permissions) password "password2" and user (document open) password "password1".
Protect PDF documents with user (document open) password, owner (permissions) password and document security restrictions using Advanced PDF Protector.
---
---
Remove encryption from PDF documents
Decrypt PDF documents
Remove user password from PDF documents
Remove document open password from PDF documents
Remove owner password from PDF documents
Remove permissions password from PDF documents
Remove document security restrictions from PDF documents
Related products: Advanced PDF Protector
Upgrade information: FREE major and minor version upgrades with purchase of an individual, volume or site license.
Supported operating systems: Windows 98, Windows ME, Windows 2000 Professional, Windows 2000 Server, Windows 2000 Advanced Server, Windows 2000 Datacenter Server, Windows XP Home Edition, Windows XP Professional, Windows XP Starter, Windows XP Media Center Edition, Windows XP Tablet PC Edition, Windows Server 2003 Standard Edition, Windows Server 2003 Enterprise Edition, Windows Server 2003 Datacenter Edition, Windows Server 2003 Web Edition, Windows Vista Home Basic, Windows Vista Home Premium, Windows Vista Business, Windows Vista Ultimate, Windows Vista Enterprise, Windows Server 2008 Standard, Windows Server 2008 Enterprise, Windows Server 2008 Datacenter, Windows Web Server 2008, Windows 7 Starter, Windows 7 Home Basic, Windows 7 Home Premium, Windows 7 Professional, Windows 7 Enterprise, Windows 7 Ultimate, Windows Server 2012 Foundation, Windows Server 2012 Essentials, Windows Server 2012 Standard, Windows Server 2012 Datacenter, Windows 8, Windows 8 Pro, Windows 8 Enterprise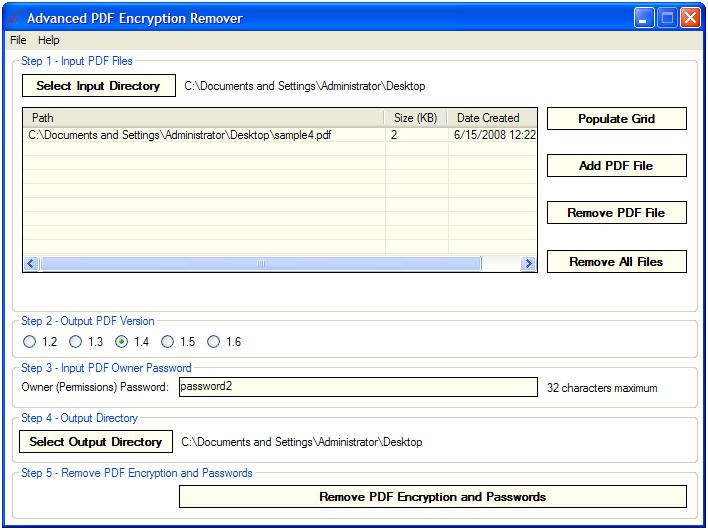 Start using Advanced PDF Encryption Remover today by following these simple steps:
Step 1: Download and install a FREE trial version of Advanced PDF Encryption Remover:


Windows Installer Package (.msi)
Step 2: Purchase Advanced PDF Encryption Remover individual license and get redirected to our online activation code request form.
To pay with






please use one of our secure shopping carts. Please make sure to provide your e-mail address in order to obtain transaction receipt. Transaction receipt will be required to request e-mail delivery of your activation code(s). Please read our privacy policy.
Price: $14.99 USD
Digital download only. Retail version is not available for this price.
Save 25% - 50% on this product with PDF product bundle purchase.
---
Optional fast checkout available for customers with an existing Amazon.com account.
---
Corporate, volume or site licensing
1) To pay with corporate or personal check, money order or cashier's check please print, fill out and mail our Order Form (PDF, RTF), along with your payment in US currency.
2) Negotiable volume or site license pricing is available, based on the number of end users. Please contact Sales for details. Application customization is available for qualified volume or site license purchases.
3) Any licensing inquiries should be directed to:
sales@advancedreliablesoftware.com
Product support
1) Submit feature requests for the next version or general comments about this product. We appreciate your feedback.
2) Any other support requests related to this product from licensed and trial users should be directed to:
support@advancedreliablesoftware.com
Advanced PDF Encryption Remover is an ideal software solution to:
Encrypt PDF files
Assign PDF permissions password
PDF permissions password
Remove permissions password from PDF documents
Adobe PDF encryption
Adobe permissions password
Decrypt a PDF file
Decrypt PDF
Disable high-resolution printing in PDF documents
Disallow commenting in PDF documents
Encrypt a PDF
Encrypt PDF
Encrypted PDF
Password protect PDF
PDF encryption
PDF permissions
PDF restrictions
Remove PDF protection
Unprotect PDF
Acrobat permissions password
Assign PDF document open password
Disallow content copying in PDF documents
Disallow high-resolution printing in PDF documents
Encrypt PDF document
Encrypt PDF file
PDF file encryption
PDF password remover
PDF remove password
Remove document open password from PDF documents
Remove document security restrictions from PDF documents
Remove encryption from PDF documents
How to encrypt PDF
How to decrypt PDF files
How to decrypt PDF file
Assign password to PDF adobe
Disallow form field fill-in or signing in PDF documents
Remove owner password from PDF documents
Remove PDF encryption
Remove user password from PDF documents
Remove user password PDF
Encryption PDF
Adobe document open password
Assign PDF owner password
Assign PDF user password
Decrypt PDF documents
Decrypt PDF file
Decrypt PDF files
Encrypt adobe
Encrypt PDF files
Encrypted PDF file
Encrypted PDF files
Open encrypted PDF
Password encrypted PDF
PDF copy protection
PDF document open password
PDF document user password
PDF encrypter
PDF encryptor
PDF owner password
PDF password
PDF permission password
PDF print protection
PDF protection
PDF protection remover
PDF protector
PDF user owner password
Protect PDF
Remove password from PDF
Remove PDF owner password
Remove protection from PDF
Secure PDF
Encrypted PDFs
Disallow document assembly or changing in PDF documents